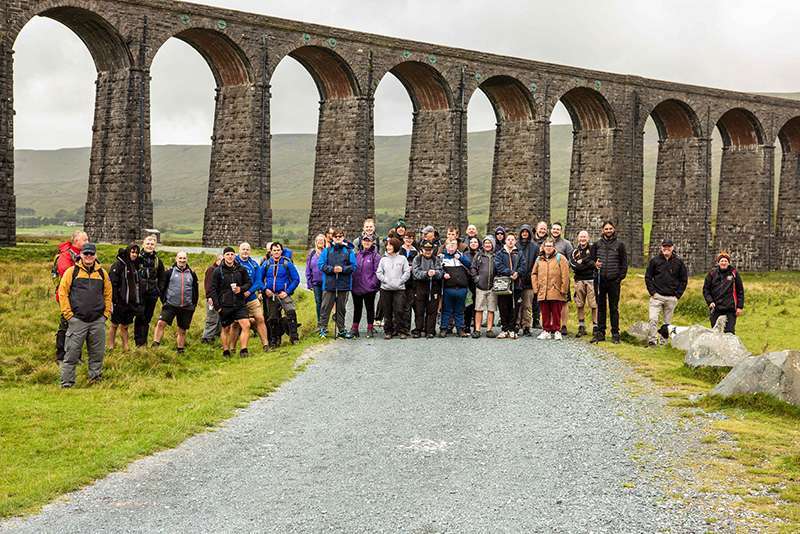 Yorkshire 3 peaks challenge for the Bumble Bee's RUFC
On Saturday the 12th of September a handful of our team, alongside other coaches from around the county, walked the Yorkshire 3 peaks to help support the Bumble Bee's RUFC. Our team and coaches walked in one group, as the Bumble Bee's players and committee walked a different route, both routes met at various points throughout the 3 peaks route.
The Bumbles are unique in England as the first team playing Mixed Ability Contact Rugby Union. With the support of the RFU and an established home at the Bradford and Bingley Rugby Club, the Bumble Bees are a stand-alone club, having over 40 registered players with and without disabilities and play regular fixtures against Able-bodied teams.
Four years ago the Bumbles attracted the attention of the WEA (Workers Educational Association), and were able to set up a class for players with Learning Disabilities, the WEA Inclusion in Rugby Group, aiming to promote disability awareness, social inclusion and equality through Rugby. These players have created a promotional training package and presentation designed to encourage the creation of new Inclusive Teams and the expansion of Mixed Ability Rugby. Material can be made available on demand!
The Yorkshire 3 peaks challenge was originally planned to take place earlier in the year but due to covid-19 restrictions the walk was postponed. The walk was then re-organised for Saturday the 12th of September. The fundraising challenge helped to raise a over £4000 to help support the Bumble Bee's. We would like to say a huge thank you to everyone who donated to the challenge!
Dave Duxbury, Jake Duxbury and Tom Willson walked the 3 peaks with Phil Wilson, Dan Cookson, Julie Wilson and Ahsan Sakandar all helped with the Bumble's players and committee walk. All of the team loved the day out, well despite the blisters!
Below is a link to the donation page, any donations would be hugely appreciated. Also some images courtesy of Mick Massey of our team in action on Saturday.
https://www.justgiving.com/team/Bumbles