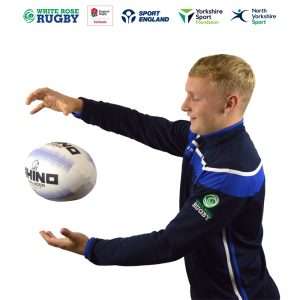 Tom is currently undergoing his 15th year of Rugby. Through this period, he has experienced various levels of performance. From playing Junior rugby at Keighley Albion, he then went on to join Keighley RUFC. In his time at Keighley he has Captained the 2016/2017 season colts to an undefeated league season and led them to the final of the Yorkshire Plate competition. In the 2017/2018 season, Tom made his 1st team debut at a Yorkshire 1 Level, with Keighley at the age of 17. Through this season he was given the call up to Yorkshire Under 20's, where he played a role in taking them to Twickenham, which led to the victory of the Under 20's County Championship. For the 2020/21 season, Tom has now moved to Sandal RUFC, to continue challenging himself.
Outside of Clubs, Tom has also been involved with the Craven College Elite Rugby Academy, over the two years of involvement, the academy competed in two National 7's Championships, and were privileged to play in the North 1 League for all colleges, competing against various Ace Academy Teams.
Whilst Playing, Tom has undertaken various coaching roles and been a part of many Inter-school's competitions. Over the past two years, Tom has experienced coaching at a Juniors and a Mini's Level. Boasting a wide span of Knowledge in the age range of Under 6's to Under 15's. Tom spent a large amount of time in Craven District Primary schools, and helped with the running and planning of the Craven district Rugby games, which leads to a National Competition of Primary schools. Alongside Coaching, Tom is a qualified Referee, in this Role he has gained knowledge and experience of the sport, which can be transferred in to his coaching sessions.
Alongside Tom's rugby delivery he is also involved in a range of other sessions, whether that be running our Sports Leaders qualifications or other mixed sports sessions and events.

Years of Coaching – 6
Coaching Philosophy in a sentence – My Coaching Philosophy is to provide a positive rugby experience and create a challenging and adaptable environment by using a 'Player Centred' Approach.
Secret Skill – I can't say, otherwise it wouldn't be a secret.
Proudest Rugby Moment – Representing Yorkshire Under 20's
Favourite Rugby Core Value and Why? – All the core values have a massive importance! But overall my favourite CORE value is Enjoyment. It's great to see Enjoyment on and off the pitch, creating that great Rugby Spirit!
RFU Qualifications:
1st4Sport Level 1
CPD Other
Play it Safe
Refereeing Children Rugby Union
CPD play it safe
CPD RFU 'CARDS'
RFU England Rugby Coaching Award (ERCA) Level 2
RFU England Rugby Refereeing Award (ERRA) Level 2
CPD Game Changers
CPD Age Grade Game Changers
CPD Scrum factory
Emergency First Aid in Rugby Union
England Rugby Mentoring Award
RFU Headcase
RFU Online Resource – Inside 7's
RFU Online Resource – Tackle Safe
RFU Online Resource – Kids First Tag Rugby
RFU Online Resource – Kids First Contact Rugby
RFU Online Resource – Principles of Scrummaging
RFU Online Resource – Game Changers masterclass : Breakdown
Other qualifications:
Street Games Multi-skill activator
CPD LGBT+ in Sport – Yorkshire Sport foundation
Return to Rugby roadmap: stage D
Sport England certificate of completion for The Sudden Cardiac Arrest
UK Coaching – Coaching people with a visual impairment
UK Coaching – Inspiring positive behaviour in sport
The Open University – Active, Healthy lifestyles
The Open University – Working with young people in sport and exercise
Zero Suicide Alliance (ZSA) – Suicide Awareness training
The Open University – Coaching others to coach
The Open University – Exercise and Mental health
DBS:
Valid to: 24/11/2020
RFU ID:
2334864