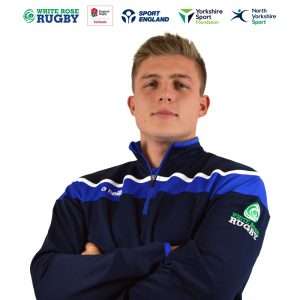 Jake has played rugby since he was 4 years old, starting at Ilkley and captaining his junior side through to 17 years old where he also lifted the Yorkshire Cup on 2 occasions. In his senior career he has played at Baildon, where he played in 2 national cup finals, winning 1 of them. He also played at West Park and Keighley RUFC..
Jake has coached since he was 15 years old in local primary schools and has continued this love for coaching by taking over as head coach of Ilkley u15's for two years before leaving to university. At university Jake was head coach for the Leeds University Women's Rugby Club (LUUWRFC), where he coached the team to 2 national cup finals and a league promotion, before stepping down as head coach and handing the reins over to his father, David Duxbury, who he now assists and leads the first ever 2nd Team at LUUWRFC.
Jake works for white Rose Rugby alongside his day job as a primary school class teacher at Addingham Primary School, where he continues to instil the core rugby values by introducing T.R.E.D.S. as his core whole school P.E. approach.
Years of Coaching – 10
Coaching Philosophy in a sentence – Development through laughter and enjoyment.
Secret Skill – 95 metre touch finders  (Lots of wind)
Proudest Rugby Moment – Scoring a try in a National Cup Final at Twickenham.
Favourite Rugby Core Value and Why? – Respect, because no matter what happens on a rugby pitch, the beauty of our sport is the respect shown for players, referee's and supporters. This ensures everyone enjoys our sport.
RFU Qualifications:

England rugby Coaching Award Level 2
Play it Safe CPD
CPD 'CARDS'
Scrum Factory CPD
Other Qualifications:
Multi-skills Level 2
Bachelor of Arts, with qualified Teacher Status
RFU ID:
400350
DBS number:
001608184429 (Valid from 12/3/18)