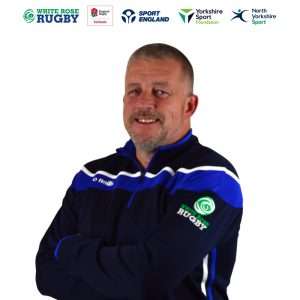 Dave is a highly experienced Player and Coach, boasting experience across numerous levels of the Rugby Leagues. Dave has taken coaching roles at many clubs including: Baildon RUFC, Skipton RUFC, West Park RUFC, Ilkley RUFC, Keighley RUFC and is currently heading up Leeds University Rugby. His experience is backed up with many Coaching Qualifications, all increasing his overall knowledge of the sport.
In Dave's 25 years of coaching, he has become a RFU Rugby Educator, a role in which he strives to develop the current coaches and referees involved in the grassroots level of Rugby.
Dave has also successfully delivered a large amount of School coaching sessions, in which is aim is to boost participation and develop Rugby even further. This is something he will carry on doing into the future.
Through his time as a coach, Dave has also become a highly qualified Referee, he has several years of experience in refereeing, with Hundreds of Rugby games and tournaments under his belt.
At the start of Dave's Playing Career, Dave was involved within the Yorkshire Colts set up. After this he was involved in Ilkley RUFC and Headingley RUFC, improving his abilities at a National League standard.
With a fantastic mix of Coaching, Playing and Refereeing experience, Dave is a highly knowledgeable Coach and has the ability to transfer this to each individual he coaches.
Years of Coaching – Some would say to many! 20+ Years
Coaching Philosophy in a sentence – A 'player centred' coaching approach allows all players to have a chance to be creative and experiment whilst receiving the support they need to continue to improve and succeed.
Secret Skill – I used to Race BRISCA Formula 1 Stock Cars
Proudest Rugby Moment – Managing to complete a game of rugby with my son and watching players I have coached in any small way get as much enjoyment out of the game as I have over the years.
Favourite Rugby Core Value and Why? – All of the CORE values are equally important to me but if I have to choose one then it would be Enjoyment both on and off the pitch. On the pitch through working with a group of friends to improve but equally socialising with everyone, in rugby you make friends for life.
RFU Qualifications:
Play it Safe
Concussion Module – Coach
Concussion Module – Coach
Referee Taster Session
Emergency First Aid in Rugby Union
CPD Other
Developing Coaches & Match Officials 2
TAG
1st4Sport Level 1
1st4Sport Level 2
Entry Level Referee Award Stages 1 and 2 with Mini-Midi
Refereeing Mini Midi Rugby
Continuous Referee Development Award – Maul
Continuous Referee Development Award – Tackle
Refereeing Mini Midi Rugby
CPD Front Row in Union
CPD Other
CPD Back Attack from Set Piece – Youth
CPD Other
RFU Rugby Educator
RFU Workforce Access
DBS Number:
001582283984 (Valid to: 26/07/2020)
RFU ID/Coach Licence:
41293