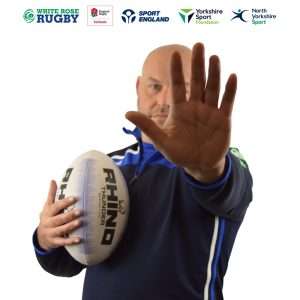 Phil has over 30 years of playing, coaching and refereeing rugby. Having started his rugby career at 'grass roots' at Baildon Rugby Club, in the minis section, Phil stopped playing during his early teens and returned to play 'Colts' rugby. Phil then went on to study at Stafford University and played for GEC St Leonards, Stafford in between studying. On his return to Yorkshire, Phil played 1st XV rugby at Baildon before spending a season at Bradford & Bingley Rugby Club, playing in National Division One before rejoining Baildon in 1997. During his 20+ year playing career at Baildon Phil has played a major part in the most successful years of their 100 year history.
Whilst being 1st XV captain for a club record 6 seasons, he led Baildon to promotion and Yorkshire Silver Trophy success in consecutive years (1998/1999) – this was some of his proudest playing moments. He is also proud to have played in Baildon's recent successes, including two RFU Junior Vase finals at Twickenham (winners 2012, runners up 2013) as well as promotion to Yorkshire 2 (2013) and Yorkshire Silver Trophy final (winners 2012). Phil boasts that he has played in four different positions at twickenham (Tighthead prop, Loosehead prop, Second row and No.8), a feat he believes not many other players have done before?
Whilst Phil was been involved in playing at Baildon, he also joined the committee and took up numerous roles including Sponsorship and Marketing and more recently Age Grade Chair, Schools & Community Officer and is currently Club Chairperson.
Coming to the end of his playing career and with a young family, he decide that he wanted to put something back into his local, grass roots community club and progress his coaching (RFU Level 2) and refereeing (ELRA 1 & 2) qualifications. As Schools & Community Officer, Phil was the driving force in employing the services of a Rugby Development Officer and instrumental in setting up girls rugby (U13, U15 and U18s) at Baildon, completing grant applications for Satellite Clubs and Sportivate bids as well as setting up O2 touch rugby.
As Chairperson, Phil has overseen the huge improvements in the clubs finances as well as helping to project managing facilities grants and improvements.
When he is not running his Marketing & Advertising agency, Phil spends as much time as he can with his wife and family, as well as supporting Bradford City when time allows.
RFU Qualifications:
UKCC Level 2: QBE Coaching the 15-a-side game
CPD Back Attack from Set Piece – Youth
CPD Maul and Ruck – Youth
CPD Scrum Factory
CPD Developing Coaches & Match Officials 2
Entry Level Referee Award Stages 1 and 2
Emergency First Aid in Rugby Union
Rugby Ready
Safeguarding and Protecting Young People in Rugby Union
CMOD – Communication and Management
CPD RFU 'CARDS'
CPD Other
CPD Play it safe
DBS Number:
001628965280 (Valid to: 07/09/2021)
RFU ID:
216561
Coach Licence ID:
154748847