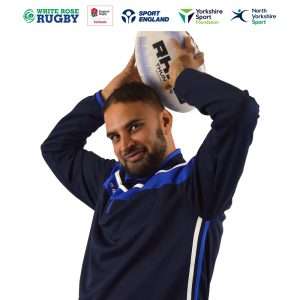 Ahsan has being a part of the White Rose Rugby team for 3 years, through his 3 years with us he has been involved in range of sessions and led a range of sports to a mix of abilities. Alongside his partner in crime, Dan Cookson, they work closely together to specialise in delivering mixed ability, disability and SEN sessions.
Throughout Ahsan's playing career he has been a valued team member at the Bumble Bee's RUFC. Playing in 2 mixed ability world cups throughout his involvement. Recently he has also played for the MARI's, an invitational mixed ability team.
Years of Coaching – 3 Years
Coaching Philosophy in a Sentence – When Coaching I try to make sure all the participants are learning new skills and attitudes. To help within rugby but also in day to day life.
Secret Skill – 3 Minute Plank
Proudest Rugby Moment – Playing rugby in the Mixed Ability World Cup in Spain.
Favourite Rugby Core Vale and Why?  Respect, as respecting other teams, officials and others involved in the sport is key.
RFU Qualifications:
CPD Other
CPD Scrum Factory
Quilter Kids First Refereeing Children
Rugby Ready
Head Case