The Future is Yorkshire – INTEGRATED PATHWAYS 2018-19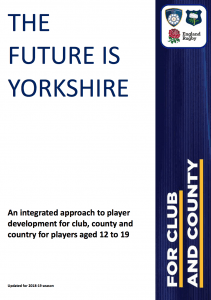 Dear Coach,
Please see below the links for U14, U15 and U16 ERDPP nominations, which will remain open until Monday 3rd December. The assessments will take place on Friday 28th December at West Park Leeds RUFC, with further details to be confirmed following the closure of the nomination period.
In order to support you in making suitable nominations, please find attached our 'ERDPP S.T.A.R.' document, which details the attributes that we look for in potential ERDPP players.
Please also find attached an updated 'The Future Is Yorkshire' document, which contains wider details of the various pathways within Yorkshire.
Finally, we will also be running a workshop for coaches on the same day as the ERDPP assessments are taking place. This workshop will aim to support coaches understanding of the pathways within Yorkshire, including further details of our principles for assessment and selection within the ERDPP and academy system and provide the opportunity to find out more information and ask questions around player development and talent identification. Again, further details of this will be sent out following the closure of the nomination period.
Should you have any further questions regarding any of the above, then please contact us at ERDPP@yorkshirecarnegie.com.
Best Regards


Yorkshire Carnegie ERDPP Team