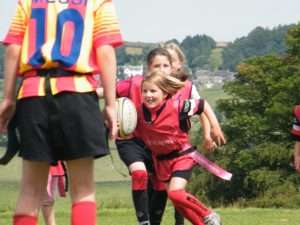 The White Rose Rugby coaches came into Trinity All Saints Primary School to coach last academic year upon recommendation from our receptionist – her sons are taught outside of school by one of the coaches. White Rose Rugby came came to coach a six week block of tag rugby with the year 5 children in preparation for the tag rugby festival, as well as delivering after school clubs for key stage 2.
Throughout White rose Rugby's time at our school the coaches were always punctual and came prepared with all their own equipment. The coach's manor and behaviour management with the children was great and they were all inspired to play more rugby. In addition to teaching the children I (school P.E teacher ) learnt numerous new skills and rugby specific warm up and development games from the team, which I use with the other year groups.
Overall, White Rose Rugby has been the most reliable and professional coach we have had since I joined the school. Finances permitting I will be asking him back this year to coach the children for the upcoming tag rugby tournament.
Claire Millbank – P.E specialist, Trinity All Saints Primary