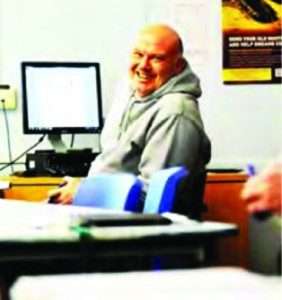 "We are all better people for having known him." Dave Geldart, Director of Sport at St Marys Menston School, speaking at the funeral of Martin Green. Following a year-long battle with cancer, Martin passed away on August 3rd 2014, he was 54. His contribution to the game of Rugby, and to the lives of those involved in it, was huge.
Beyond his own playing career at Keighley RUFC, Martin was the Head of PE and Sport at St Mary's Menston School and went on to become a highly talented coach. He most notably led the way in establishing a playing programme for any school to take part in, particularly schools who hadn't played much rugby union. Martin was intent on growing the game to try and add value to other people's lives, as it had to his. The programme started off as the 'Aire-Wharf Schools Competition' with 8 schools, quickly growing to 17 by 2004/5. It now involves 70 schools and is now known as the 'White Rose Schools Rugby Series '.
Martin aimed to create a playing programme that wasn't a league format, nor focused solely on winning.  Instead there would be a merit table with points designed to encourage further participation. It was as simple as rewarding teams for fulfilling their fixtures, it worked, it carries on working.
RFU Community Rugby Coach Dave Duxbury said: "His contribution to rugby union went far beyond just inspiring the students of his own school. It spread to all local schools, indeed every school involved in the competition. He was so driven and worked so hard to develop rugby and directly contribute. It is of no coincidence that there has been a huge increase in the number of players at local clubs in his area."
A champion to the end for Women's and Girl's Rugby, it was his desire from the outset to expand the Aire-Wharf Schools Competition to be fully inclusive. This was done through an un-relenting commitment to the programme. This dedication was never more evident than when he helped develop the first community rugby coaches in Leeds, and across all schools with potential involvement in the competition. "Martin had an immeasurable passion for the game and desire to see young people playing at their local club, as he had done at Keighley RUFC," added Duxbury.
The St Marys Menston School website read: "His work in Physical Education and Sport gained national acclaim and he was always willing to share both his expertise and enthusiasm. The school has been blessed in so many ways by this wonderful educator and kind person. He truly made a difference."
Dave Geldart, who worked with Martin for many years as Director of Sport at St Mary's added simply: "We say goodbye and thank you to our great friend."
Everyone at The RFU would like to express their thanks to Martin Green and recognise the monumental contribution that he made to the game of Rugby. Our thoughts are with his family and friends.