Nickname – TBC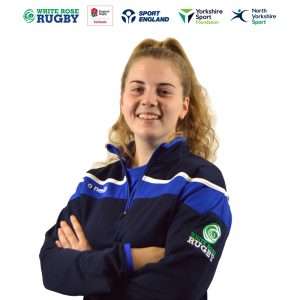 Years of Coaching – 2
Coaching Philosophy in a sentence – Having fun and developing skills to create an enjoyable environment that participants want to return to.
Secret Skill – Can do the worm
Proudest Rugby Moment – Representing Yorkshire Senior women in a semi-final of the cup.
Favourite Rugby Core Value and Why? – I think that all of the core values are important but my favourite is enjoyment as i believe it is important to have fun and enjoy playing rugby whilst socialising with team mates.
RFU Qualifications – 
RFU England Level 2 Coaching (ERRA)
England Netball Level 1 Course
CPD Play it safe
CPD 'CARDS'